Welcome to the Latin American Studies Graduate Program

Navigating UCSD
There will be several important orientations to attend prior to the first week of instruction at UCSD:
Latin American Studies Program Orientation  
NEW Academic Student Employee (ASE) Orientation - REQUIRED for all NEW Instructional Assistants (TAs, readers, and tutors) - This is a campus-wide orientation for NEW employees within the Academic Student Employee (ASE) unit who are covered by the collective bargaining agreement between the University and the UAW. During this orientation, the UAW will be provided 30-minutes to present to new Academic Student Employees without the presence of University officials.  This is in lieu of participation by the UAW in any department-wide or hiring unit-wide orientation.  All new Associates In (In lieu of Teaching Assistant), Associates In (Teaching a Class), Teaching Assistants,  Readers, and Tutors must attend the New Academic Student Employee (ASE) Orientation
Gradaute Student and Family Housing:
The first thing you should do when you accept admission, is to get on the waitlist for housing.
2020-21 Grad Housing Rates - UC San Diego, Associated Residential Community Housing (ARCH) offers housing to eligible graduate and professional students in five residential communities:
Off Campus: 
There are several neighborhoods off campus with grad student-friendly prices. Here are a few of the popular ones!
Beach communities:
La Jolla– Technically it stretches from the beach to the grad student housing. Some deals to be found on Craig's list type rentals near the beach, but usually very expensive.
Del Mar – The beach community just north of campus. Some places in our budget range, but far from the grad-student friendly fun.
Pacific Beach ("PB") – The beach community just south of La Jolla. College atmosphere, young area. Traffic in and out is an issue during rush hour, but it's a unique neighborhood with lots of bars and restaurants and housing deals.
Mission Beach, Ocean Beach ("OB") and Point Loma – OB and Loma might have some good deals, but they are definitely harder to get in and out of. The commute might not be worth the deal!
Inland:
UTC/University City – The area directly south and southeast of campus. Mostly apartments, on the pricey side. Close, convenient, but might be lacking in fun.
Clairemont – Lots of cheap, great houses and apartments, but a few not-so-great areas (check out the place before you commit). Close and easy to get to school!
Hillcrest and North Park – These trendy urban neighborhoods are just north of downtown and have a lot to offer. A little further, but a little cooler.
Additional Off Campus Resources:
Sample LAS MA Schedule 
FALL
WINTER
SPRING
2021-22

LATI 200

Theory/Methods

Elective

Theory/Methods

Elective

Elective

 

Elective

Elective

Elective

 

2022-23
LATI 299 (12 units)
LATI 299 (12 units)

 

LATI 299 (12 units)
Some courses may have prerequisites or restrictions. Students may submit a pre-authorization request via the Enrollment Authorization System (EASy)
Students are expected to complete all prerequisites and meet all course restrictions prior to enrolling. Prerequisite and course restriction information for each course is available at the Schedule of Classes on TritonLink and the UC San Diego General Catalog.
All students are permitted to be employed at a maximum of 50% (20 hours per week). (Exception: If you find employment over 50% you will need approval from the Department Chair in the form of an employment exception letter.)
25% employment as a TA or GSR will cover Registration and Enrollment fees (excluding University Center Fee, Recreation Facility Fee, GSE Fee, and Student Transporation fee estimated @ $275.62 per quarter)
Some GSR positions cover Non Resident Supplementation Tuition (NRT). TA positions do not cover NRT.
TA/Reader/GSR Current Pay Rate (additional pay rate on top of fees covered for each employed quarter)
Learn more about Grad employment options at UCSD
ASES - Open Positions. Requires UCSD log-in credentials.
International graduate students who are non-native speakers of English must be certified as having requisite language skills before they can serve as teaching assistants (TAs; UC San Diego Graduate Division policy in compliance with Assembly Concurrent Resolution No.41 . Students may be certified by taking the English Language Certification Exam (ELC
Students who are admitted and have a TOEFL speaking score of 28-30, IELTS speaking score of 8.5-9.00, and/or PTE score of 83-90 and 2 will be certified as having the requisite language skills to serve as Teaching Assistants, and are not required to take the ELCE.
Those students with TOEFL speaking scores of 23 – 27, IELTS speaking scores of 7-8, or PTE speaking scores of 65-82 are required to take the English Language Certification Exam (ELCE) .  Students who do not pass the English Language Certification Exam are given the opportunity to improve their language skills. 
Types of Direct Deposit for Students:
There are 3 offices on campus that provide direct deposit for graduate students:
Student Business Services (stipend payments for domestic students)
Payroll (TA and GSR employment checks)
Stipend Payments for International Students:
If an international student has a current PPS appointment (GSR, TA, etc.), the stipend payment will be issued according to the direct deposit information in PPS.
If the student does not have a current PPS appointment at the time the title code 3296 appointment is created in PPS, the stipend payment will be issued according to the direct deposit information in Disbursements.
To be on the safe side, an international student may want to sign up for both:
Are you having problems with your TA skills? Go to the Center for Teaching Development for free workshops!
The Teaching + Learning Commons  is dedicated to the theory, practice, and scholarship of teaching and learning. Its mission is to advance learning by creating a campus-wide culture of engaged teaching and learning.
All information about the agreement between the Regents of the University of California and the International Untion, United Automobile, Aerospace and Agricultural Implement Workers of America (UAW), AFL-CIO Academic Student Employees Unit can be found here. 
The UC San Diego Gradaute Division provides useful 
Tax Information
and information on their website.
Computer support for LAS grads is provided by the Social Science Computing Facility (SSCF).  We are located on the 1st floor of Social Sciences Building in SSB 142.  The preferred method of contact is through our online helpdesk ticket system.  To generate a ticket, send an email to sscfhelp@ucsd.edu.  The helpdesk is available from 8am to 4:30pm Monday – Friday (closed 12-1 for lunch) and can be reached at 858-822-2423.
SSCF will support DSS Grad students in the following areas:
| | | |
| --- | --- | --- |
| Setup of new machines | Web hosting | Antivirus |
| Internet connectivity | Email Support | General troubleshooting |
SSCF will not provide any assistance with IT issues related to illegal file sharing, pirated software, computer games, and legacy (discontinued) software.  "Unsupported" services may be supported by migrating users to a "supported" solution. Out-dated machines will not be supported. If for whatever reason SSCF cannot accommodate a user's request, they will be referred to the appropriate on-campus support group.
Progress Towards Your Thesis and Defense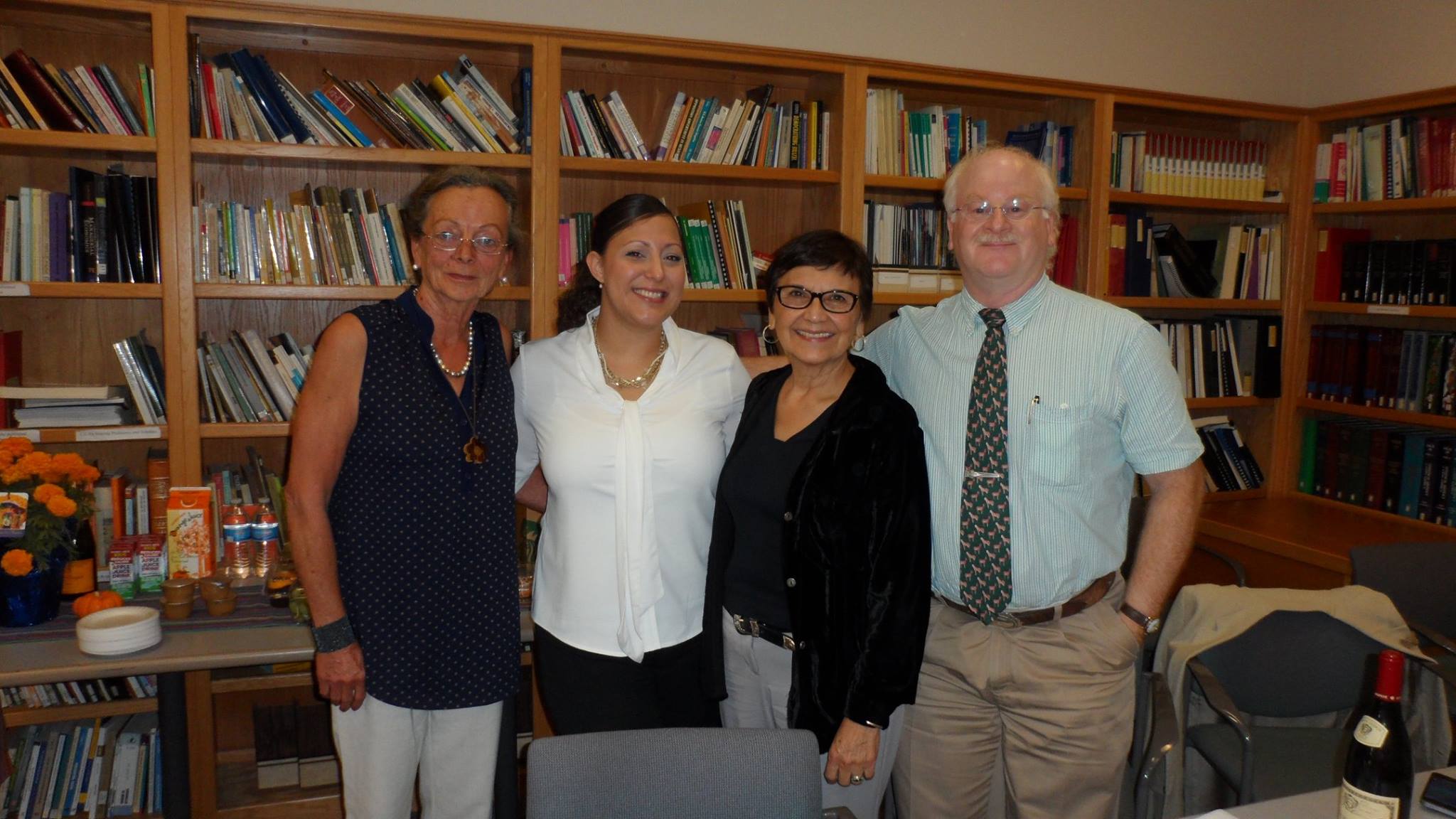 Cynthia Vazquez ('14) with her thesis committee - Christine Hunefeldt, Ross Frank and Olga Vasquez
Thesis Committees
You should, from the very beginning of the program, introduce yourself and get to know faculty members.
TIp: Complete Independent Readings (298s) to become familiar with the different working styles and accessibility of the faculty.
You will need to be working with faculty members to plan your summer research. 
You must have all three committee members before you fill out your Advance to Candidacy paperwork.
---
Who can be on my committee? 
Please review our Thesis Committee Membership Form to see who can serve on your committee.
Students are required to have a minimum of three committee members and they must be from at least two separate departments.  
Any faculty from an outside university (non-UC) may only serve as a fourth member on a thesis committee per petition to the Office of Graduate Studies.  A letter of explanation indicating why the faculty member should be on the committee and the faculty's CV must be submitted when you Advance to Candidacy or submit a Reconstitution Form.
Master's students apply to advance to candidacy after completing all required course work for the degree requirements specified. (Typically at the beginning of Winter during the second academic year)
Advancing to candidacy means you are ready to write a Master's thesis:

Meet with your Grad Coordinator: Master's thesis students will have an Application for Candidacy form that your Graduate Coordinator submits to the Graduate Division, along with a request to constitute the thesis committee 
The Application for Candidacy must be filed with the Graduate Division 

within the first 2 weeks of the quarter in which the degree requirements are to be completed

.
Ideally, the Application is filed when the student is registered in the last of the program's core courses.
Quarterly Thesis Formatting Workshops
During your second year of study you will attend one of the Quarterly Thesis Formatting Workshops hosted by the Grad Division.
2021 Dates:

  Fall 2020 - TBA - Gradaute Coordinator will email you
---
Schedule a date to defend thesis based on availability of committee.
Inform Grad Coordinator of date to reserve the CRAMB Library. 
Bring signature page of thesis to the defense
Bring some kind of refreshment for committee during defense. (This one isn't required for graduation, but at least your committee will be happy)
Get other paperwork from me on your defense date -  Final Report Form
Master's thesis students should check with their advisor regarding when the thesis must be submitted for review by the master committee.
---
Preliminary Meeting with Graduate Division (Schedule 2-4 weeks before thesis defense):
Student must make an appointment with the Graduate Division for a preliminary check of his/her thesis 

At that appointment the format is checked and instructions on the final preparation and submission of the thesis are given.

At the Preliminary Appointment, students can choose to have their review done in one of two ways:

 1) Upload the complete fully formatted dissertation or thesis to http://www.etdadmin.com the morning of the preliminary appointment. Print and bring hard copies of all preliminary pages (title page through abstract). If this option is chosen, the entire dissertation or thesis does not need to be printed. This will not be the definitive version. Students will have the opportunity to make changes and resubmit prior to their final appointment. OR 

2) Bring in a complete, unbound, single-sided, fully formatted printed copy of the dissertation or thesis.

The thesis must be formatted according to the requirements explained in the Preparation and Submission Manual for Doctoral Dissertations and Masters' Theses.
---
Final Appointment with Grad Division: 
The thesis committee shall supervise and approve the student's thesis by signing the thesis signature page; signatures must be original. Proxy signatures are not accepted.

The

 Final Report of the Thesis for the Degree of Master of Arts 

must have the original signatures of all members of the thesis committee, the program's graduate advisor, and the program's chair. The form for Plan I must also indicate if the student will continue at UC San Diego or will terminate. (The 

Final Report

 forms are obtained from the graduate coordinator). Proxy signatures are not accepted.

The final version of the thesis must conform to procedures outlined in the Preparation and Submission Manual for Doctoral Dissertations and Masters' Theses.
The thesis submission fee of $25 must be paid at the

cashier's office prior to the student's final appointment

with the Graduate Division. 

Final approval and acceptance of the thesis by the Dean of the Graduate Division (on behalf of the University Archivist and Graduate Council) represents the final step in the completion of all requirements for the Master's degree.
---
The deadline to submit final degree paperwork to the Graduate Division is the 11th Friday of each quarter (see http://grad.ucsd.edu/progress/academicdeadlines/generic-deadline.html and the Registrar's Enrollment and Registration Calendar (http://blink.ucsd.edu/instructors/courses/enrollment/calendars/) for more information on deadlines and specific dates). If the deadline is missed the degree will be awarded in the next quarter.
UCSD Graduate Division Commencement -
---
If you have any questions about graduate commencement, please contact the coordinator.
Rachel Quam (Temporary Student Services Advisor) rquam@ucsd.edu 
Additional Resources for LAS Grads
The Graduate Student Association (GSA) exists to advocate the rights and interests of our diverse community, to provide for the enjoyment of social, cultural, and service-oriented events, and for the betterment of academic and non-academic life of all graduate and professional students at UC San Diego.
The Graduate Student Association (GSA) also offers a limited number of travel awards and event funding for Grad students.
For current information on the GSA travel award, see the GSA website at: http://gsa.ucsd.edu/
The UC San Diego Grad SLAM is a graduate student competitive speaking event that showcases graduate student research. Grad SLAM participants present their research using three PowerPoint slides in a three-minute "TED-like talk" that can be understood by a general audience. Presenters will compete in successive rounds and receive prizes ranging from $100.00-$2,500.00. This year the top winner will have the opportunity to compete in the first-ever UC system-wide Grad SLAM competition in Northern California. All travel expenses to participate in the statewide competition will be covered by the Graduate Division.
The goal of this event is to share with the campus community the tremendous quality of the graduate research at UC San Diego and offers an opportunity for graduate students to develop oratorical skill, a dynamic delivery, and compelling content when presenting their academic research.
The
Raza Resource Centro
(RRC) is one of the newest Campus Community Centers under the new Vice Chancellor of Equity, Diversity, and Inclusion at UC San Diego. The Centro came out of a history of struggle, and student and community movements that called for resources and support for UCSD Chicano/as- Latino/as. As a Campus Community Center with administrative staff and student interns we offer activities, events and resources to connect, students, staff, faculty, and alumni. The RRC is open to everyone but we strive to emphasize and foster the access, retention, and graduation of Chicano/a-Latino/a students as well as create strong connections with our surrounding community.
ASE  (TA) Child Care Reimbursement
GSR Child Care Reimbursement
An important new benefit will be extended to graduate students appointed to work as Graduate Student Researchers (GSRs) for at least 25% time, effective Fall Quarter 2013. In recognition of the added challenges faced by students who are juggling campus employment with raising their children, and in keeping with a benefit that has been contractually extended to Teaching Assistants (TAs), eligible GSRs may be reimbursed for qualifying childcare expenses.  Effective Summer 2014, GSRs may be reimbursed for qualifying childcare expenses up to maximum of $900 per quarter. Students will be reimbursed by their home departments and programs.